Advances in data sharing for the foster care system.
Thanks to legislation, Washington state has broken down barriers to data sharing, which has improved how education and child welfare agencies track foster care students. The result: improved graduation rates.
Editor's note:
This is the second story in a three-part series on foster care data sharing. May is National Foster Care Month, and an opportunity to examine how policymakers, researchers, and education and child welfare leaders are working together to help foster care students succeed academically. Part 1: Foster Care Student Data Emerges from the Shadows
Advances in data sharing for the foster care system.
Jess Lewis has spent more than a decade at the state and local level helping homeless students and children who were waiting to find out if they would enter the foster care system. She's passionate about assisting mobile groups of students by making sure that systems don't create barriers for them.
Her passion is personal. Lewis is taking care of two foster boys who are 10 and 11, and she wants them to have the same education opportunities she had so they can be successful.
It's always been my ambition to create systems that actually kind of get the grownups in line in a way that facilitates the opportunity for success rather than creating a situation where kids are kind of fighting against the system in order to make it.Jess Lewis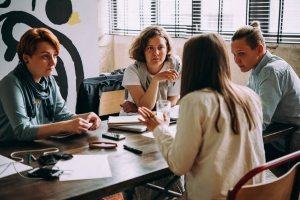 For the last year and a half, Lewis has taken on the newly created role of program supervisor for foster care education at the Washington Office of Superintendent of Public Instruction. She leads a team on the education side in collaborative work with their counterparts from Children's Administration in the Washington State Department of Social and Health Services.
Lewis's colleague at Children's Administration, Shanna McBride, was previously a social worker for Child Protective Services in Washington, where she worked with teens in group homes and tried to help them graduate from high school. She also experienced first-hand the difficulty of navigating the school system as a parent of two biological children who were on individual education plans, which take into consideration children's unique needs and set educational goals for them. Many children in foster care have special needs that trigger individual education plans.