Overcoming the top challenges of Digital Transformation.
by Andrei Klubnikin of Business 2 Community
In a nutshell, Digital Transformation refers to a complete overhaul of a company's organizational and business processes, which enables enterprises to leverage the power of emerging technologies for continuous business growth. The phenomenon literally impacts every organization, including governance structures and social activity groups.
Challenges of Digital Transformation
Overcoming the top challenges of Digital Transformation.
Resistance to change
Overcoming the top challenges of Digital Transformation.
According to recent psychological studies, only 38% of people actually like changes. When it comes to enterprises that have been using monolith apps and managing customer data through Excel sheets for decades, the percentage is even smaller. As a result, innovative IT projects (for example, the installation of a sensor-powered Building Management System or the decision to leverage data collected through wearables for medical underwriting) get little support from a company's financial, marketing or business department. 54% of companies that participated in the 2017 IoT World Forum cited increased collaboration between IT and business departments as the key factor behind an IoT project success. Meanwhile, the number of business executives and IT decision makers who describe their IoT initiatives as "entirely satisfying" differs by a whopping 20%. As Steve Jobs once said, every technology has its spring, summer, fall and winter. Companies that want to secure their place in a competitive market should be able to identify tech tools promising success, conduct market analysis and present research findings to CEOs. Unless you possess the resources and experience to identify your business pain points and come up with a solution, you can always trust the business analysis part to an experienced software developing company!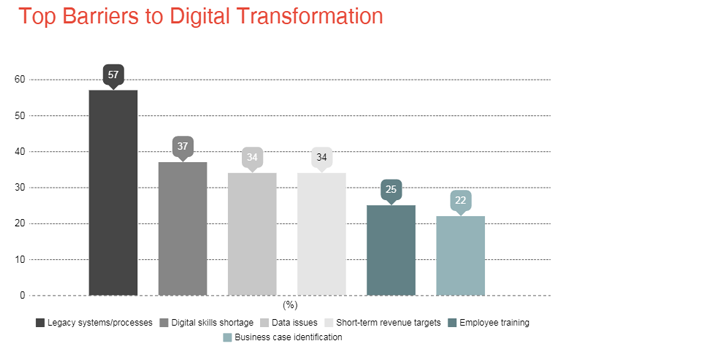 Failure to collect and process data
Every successful Digital Transformation journey starts will collecting and analyzing data – and putting it to work, of course! No matter whether we talk about CRM insights or temperature sensor readings, companies should be able to identify data patterns, detect trend changes and adjust their business processes and spending accordingly. Here's how it works. Several prominent OEMs including Caterpillar, General Electric and John Deere now produce construction, mining and agricultural equipment enhanced with sensors enabling their customers to optimize fuel usage, predict downtime and streamline maintenance operations (the so-called Equipment-as-a-Service model). Let's take farming, one of the most traditional and tech-resistant industries out there. By using IoT greenhouse solutions, smart harvesters and sensor-powered irrigation systems, agriculture companies can successfully prevent overwatering, fertilizer abuse and losses in livestock – and subsequently reduce operating expenses. As of now, only 48.4% of Fortune 1000 companies achieve measurable results from their Big Data investments, while most small and medium-sized businesses seldom have the resources to capture and process business data – and that's why Digital Transformation is still in its infancy.
Digital Transformation promotes the development of a data-centric, highly efficient and customer-friendly business environment where smaller companies can successfully compete with corporations, promptly respond to new challenges and explore new revenue models. It's no wonder two-thirds of CEOs of the Global 2000 companies have plans to make Digital Transformation a central part of their business development strategies by the end of 2017.
Overcoming the top challenges of Digital Transformation.
Inadequate Digital Customer journey mapping efforts
Increased efficiency and revenue growth aside, why do tech-savvy companies embark on Digital Transformation projects? Obviously, they want to meet the needs of their customers who now expect a seamless digital experience across multiple channels. According to Gartner, a digital customer is a user who consumes content, interacts with brands and makes transactions via social media, a mobile app or a website. While most brands do realize the importance of being tech-savvy, 29% of US small businesses still operate without a website; of those who use one, only 79% say their websites are mobile-friendly. Although 52% of companies increased their mobile app dev spending by 31% last year, mobile still accounts for just 10% of the average enterprise software development budget. Even social media – one of the most effective and inexpensive business development tools – remains ignored by certain enterprises. All of this (combined with the fact that only 72% of brands are familiar or very familiar with buyer personas) marks an alarming trend in customer services: a lot of companies have only a vague idea of who their potential clients are and what communication channels they prefer. In order to overcome the Digital Customer-related challenges in Digital Transformation, brands should continuously study their target markets, identify customer needs, keep an eye on new technologies and create portfolios for future customer journey mapping.
Overcoming the top challenges of Digital Transformation.
Heavy dependence on legacy business models
For most enterprises, Digital Transformation means being able to sell exactly the same products and services through a digital pipe. Perhaps they can take a few lessons from mobile application developers who implement a wide range of monetization strategies to win users and boost revenues and adjust pricing models based on the OS, user region and current app metrics. Some of the products and services you used to charge for (like shipping, estimates and consultations) are now provided for free. With EaaS and Uber-like business models, forward-thinking companies completely eliminate the capital investment stage and start making profit straight away. Flexibility is key to surviving in the digital age – and it's up to you to embrace it.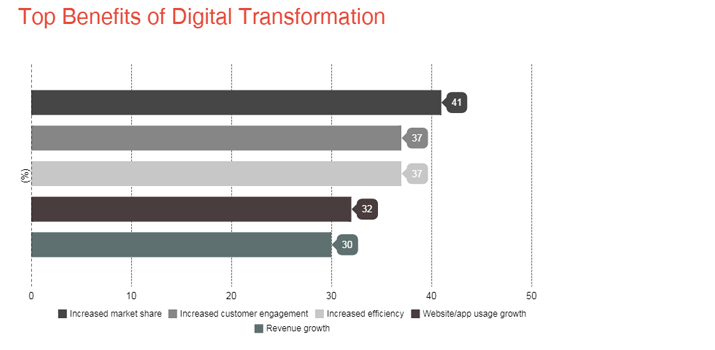 85% of business executives believe a modern company has only two years to start Digital Transformation before bearing financial losses and falling behind its competitors. Provided you overcome the challenges which hold back your IT initiatives today, you won't fear what tomorrow brings.