Harness the power of a more complete, accurate, 360° view of each child.
DataMass™ dynamically collects, consolidates and normalizes data from different custodians of your children's vital data estate.
DataMass™
Software that delivers the most reliable data for child welfare
At the core of the StabiliWare™ solutions suite, DataMass™ delivers reliable, comprehensive data integration to help alleviate the challenges many child welfare organizations face with their data.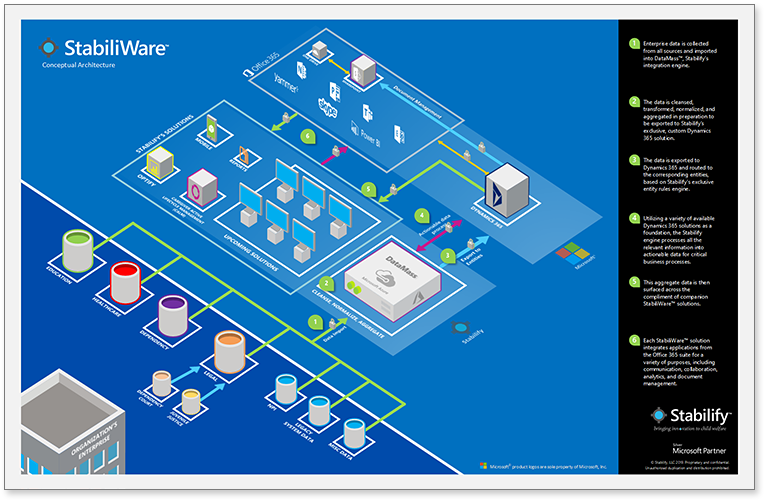 With DataMass™, information from different custodians of your children's vital data estate is dynamically collected, consolidated and normalized.
This essential child data often includes:
School attendance, performance, and mobility
Scheduled dependency court hearings
Criminal justice system involvement
NPI (National Provider Identifier) healthcare provider data
As an added benefit, the harvested data is then published for your organization's consumption through companion solutions like Optify™.
Features
Exclusive child welfare data logic
Make well-informed decisions underpinned by fit-for-purpose, reliable data, thanks to the exclusive child welfare data logic utilized by DataMass™.
Multi-source integration
Empower staff at all points of contact to make critical decisions based on the same set of facts from a single, accurate, and more complete view of each child.
Real time processing
Predict patterns currently overlooked due to the time required to manually create reports from stale source data and then trying to connect the dots to decipher what it all means.
SACWIS/CCWIS compatibility
Enjoy peace-of-mind by knowing DataMass™ is compatible with your current SACWIS or CCWIS system.